UMBC is one of the most diverse campuses in the nation, and we value the richness that such diversity brings to campus life. The Initiatives for Identity, Inclusion & Belonging creates opportunities for students to build their awareness and knowledge of diverse people, cultures, and belief systems. Through facilitated discussions, informal gatherings, educational engagements, presentations, and campus-wide events, individual students, student organizations, and classes learn the skills to create inclusive, just and mutually respectful communities at UMBC and beyond.
Recent Posts:
Showing items tagged fall. Show All
NEW Friday Hours: 10am-2pm, August - December, 2016
UPDATE:  To accommodate our new Interfaith Center staffing, the Mosaic will be open according to the following schedule effective Sept. 16 through the end of exam week.  Monday - Thursday:...
Posted: August 31, 2016, 5:03 PM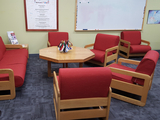 Equality Maryland is seeking students for our fall internship program. We are looking for people interested in our development, organizing, communications and political programs. This is a...
Posted: August 10, 2012, 11:22 AM