Jasmine A. Lee MSW, Ph.D.
(She/Her/Hers) | 336, The Commons | jaslee@umbc.edu | 410-455-6304
Director for Inclusive Excellence and Initiatives for Identity, Inclusion & Belonging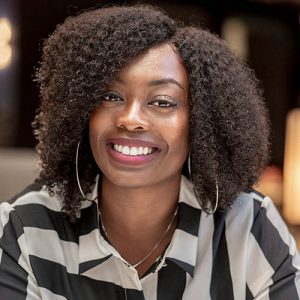 Dr. Jasmine Lee works with staff and students to create inclusive campus environments through direct programming, strategic student success initiatives, and collaborative leadership, along with consultation for racial climate concerns and broader diversity issues for faculty and staff across campus. In addition to her work at UMBC, Jasmine works with universities, non-profit organizations, and faith-based communities to provide engaging opportunities for community members to further develop their leadership, diversity, equity, and inclusion knowledge, awareness, and skills. She has collaborated with various national organizations including the National Academic Advising Association, American College Personnel Association, the Residential College Symposium, and the National Conference on Race and Ethnicity. Jasmine completed her Ph.D. in the Higher, Adult, and Lifelong Education program at Michigan State University. Her research focuses broadly on Black college student experiences, social justice, and theory-to-practice methods for higher education professionals. Additionally, she holds a Bachelor's of Social Work from Eastern Michigan University and a Master of Social Work from the University of Michigan. Beyond work, Jasmine is a daughter, a sister, a friend, a cousin, and an avid traveler. She has a deep belief in people and possibility. She seeks to find joy in everyday life, and values time with friends and family . . . especially her super cute twin nephew Kamran! More than anything else, she believes that she is always capable of learning, growing, and evolving. Within her role at i3b, Jasmine co-created the INTERACT Dialogues, IDEAL Training and Facilitation Programs, and co-instructs the Social Justice Dialogues FYS102 Course.
Ciara Christian '18 Applied Sociology, M.A., '22, Language, Literacy, and Culture Ph.D.
(She/Her/Hers) | 2B23, The Commons | cichris1@umbc.edu | 410-455-8478
Associate Director, Initiatives for Identity, Inclusion & Belonging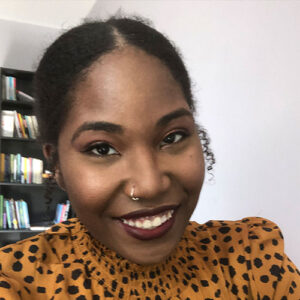 A two-time UMBC alumna (2018 and 2022), Dr. Ciara Christian supports many campus stakeholders in cultivating a climate wherein everyone experiences a sense of belonging. Ciara came to UMBC in 2016 for the Applied Sociology graduate program and to continue the spirit of her Peace Corps experience (Rwanda '13-'15) in service to UMBC's campus as a Shriver Peacworker Fellow. Following this experience, she remained at UMBC to pursue her Ph.D. in Language, Literacy, and Culture.
Within i3b, Ciara's work has included building and co-teaching the First-Year Seminar: Race, Social Justice & Dialogues, developing the IDEAList dialogue internship program, co-developing and co-leading Inclusive Departmental Culture workshops for faculty, staff, and academic departments, and serving as a content expert on dialogue facilitation, social justice education, diversity, equity, and inclusion. Additionally, Ciara coordinates requested campus-wide training, supports the expansion of identity-based dialogue opportunities, and serves as the primary liaison to campus partners for first-year and transfer students, identity-based connection groups, and graduate and international students. Ciara is a life-long learner whose research explores digital media platforms, specifically podcasts, as spaces for knowledge production, identity formation, and organizing for Black identity, Black feminism, and Black thought more broadly. Ciara is a lover of culture, language, and travel. Outside of campus, Ciara enjoys cooking, listening to podcasts, sharing quality time with friends and family, and can often be found at OCA Mocha. Ciara is a very proud alumna of Howard University, where she earned her Bachelor of Arts in Political Science.
Carlos A. Turcios '15, Psychology, Sociology, '17, Applied Sociology M.A.
(He/Him/His) | 201D, University Center | carlos6@umbc.edu | 410-455-1825
Assistant Director, The Pride Center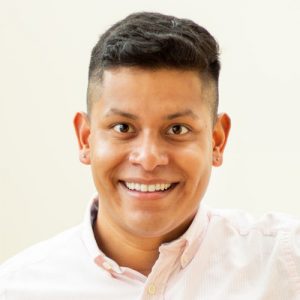 Carlos was the first Coordinator with Initiatives for Identity, Inclusion & Belonging, originally joining the center as the intern for Hispanic and Latinx community outreach in fall 2016. Carlos proudly boasts that he is a double alum and is an active member of the UMBC Chapter of Black and Latino Alumni (CBLA). As a self-identifying Mestizo, gay, second-generation Salvadoran-American immigrant man, he incorporates his identities, experiences, and passions into his work. His professional interests include gender equity and immigrant rights, accessibility issues, medical sociology, and exploring the historical context of sociopolitical structures. When he's not working or spending time with family or friends, Carlos enjoys going out dancing, video gaming, DIY crafting, and being an active dog dad to his two dogs; Pancho and Charlie. During his undergraduate career, Carlos minored in French and gender and women's studies and additionally has earned a Certificate in Management in the Nonprofit Sector and will soon earn his Certificate for Learning and Performance Technology. Within his role at i3b, Carlos created the Mundo Lingo, PAWTalks, Pawsitive Bodies and Minds series, the SafeZone LGBTQ+ Allyship Development Training, co-created the Bagels and Banter series, and co-leads the Retriever Immigrants United (RIU) self-care and advocacy discussion group.
Angelina Jenkins
(She/Her/Hers) | 2B23, The Commons | arjenkins@umbc.edu | 410-455-3014
Assistant Director, The Mosaic: Center for Cultural Diversity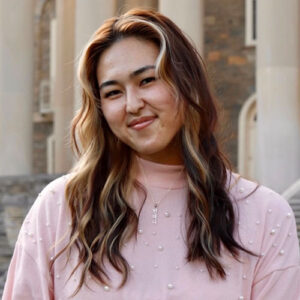 Angelina has a strong belief of thriving among the transitions of life while demonstrating authenticity and genuinity among relationship building. She works with students and staff to cultivate an inclusive learning environment through the celebration of culture and identity. As a Bi-racial, multicultural Asian American woman, Angelina integrates these aspects of her identity into celebrating authenticity and culture while also exploring the journey that is building an understanding of self-empowerment. Her professional experiences include: managing and advising student organizations including sororities and fraternities, program curriculum development with an emphasis on cultural competency and identity development, and certified peer mentoring and curriculum development with academic, social, and cultural developmental initiatives to further an environment of holistic learning and growth. Outside of her professional work, Angelina has a passion for traveling and learning about others through food and music. She is an avid K-pop (Korean Pop music) lover, and concertgoer, and finds joy in reading.  Angelina completed her Master of Arts in Student Affairs in Higher Education and her Bachelor of Arts in Psychology with a certificate in Asian Studies, both at Indiana University of Pennsylvania (IUP).
Matt Hoffman
(He/Him/His) | 105, Center for Well-Being | matt.hoffman@umbc.edu | 410-455-6795
Assistant Director, Gathering Space for Spiritual Well-Being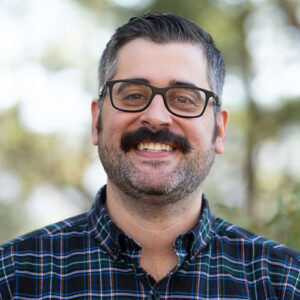 Matt Hoffman is passionate about working with students, staff, and faculty to co-create spaces that dive deeply into issues of faith, religion, spirituality, and belonging. Having spent 10+ years engaged in interfaith work and activism—as well as being in an interfaith family—Matt brings his own practical experience and knowledge to this work while seeking to build connections and ongoing partnerships along the way.  As someone committed to holistic well-being, he feels called to support and inspire college students—from all traditions and backgrounds—as they navigate faith, the demands of school, discern vocation and explore questions of identity and belonging. Following a short-lived career as a high school social studies teacher, Matt went to seminary to learn how to organize faith communities and advocate for issues of justice and food access. His research and professional interests include exploring the intersection between interfaith work and activism and diving deeply into conversations about food and religion. Matt has studied and taught about Christianity, Islam, and Judaism and spent time in Indonesia studying religious conflict and peacebuilding.
Prior to beginning his work at UMBC, Matt was the Associate Director of Interfaith Initiatives and Instructor of Religious Studies at Warren Wilson College, near Asheville, NC. There, he co-created a Minor in Interfaith Leadership, helped lead religious and spiritual life programming on campus, and taught classes about religion, centering interfaith work, environmental justice, and food access. Matt has a BA in International Studies and Political Science from Miami University (Oxford, Ohio), a Masters of Divinity from Union Theological Seminary in the City of New York, and a Masters of Sacred Theology from the Lutheran Theological Seminary in Philadelphia. Additionally, Matt is an ordained minister in the Evangelical Lutheran Church in America. In his free time, Matt is a Cajun food devotee, a community garden green thumb, a new father, and an avid board game enthusiast.
Adam Watkins
(He/Him/His) | 336 The Commons Building | adamw4@umbc.ed | 410-455-8990
Administrative Assistant
Adam Watkins is the Administrative Assistant for i3b – Initiatives for Identity, Inclusion & Belonging. Adam is an alum of Towson University where he majored in History and Secondary Education. Previously he worked in non-profit licensed Before and After-School Care for students in grades K-7. Adam also works as an Administrative Assistant for the Center for Democracy and Civic Life. In his free time, Adam enjoys cooking, tabletop roleplaying games, and Lego.
---
Our Student Staff
Initiatives for Identity, Inclusion & Belonging offers multiple student staff opportunities every year.
Drew Powell
(He/Him/His) | 336, The Commons | dpowell1@umbc.edu
Graduate Assistant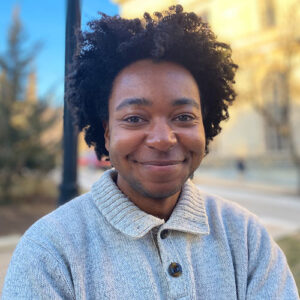 Drew Powell is a Master's student in the Department of Geography and Environmental Systems, studying the use of forests to explore the relationships between race and air pollution across Baltimore City.  He is passionate about fostering liberated education opportunities for youth of color, cultivating connections between nature, social justice, and inner-city communities, and understanding urban ecological systems.
Drew earned his bachelor's degree at Boston University, where he was heavily involved in efforts to support TLGBQ+ students as a member of the Center for Gender Sexuality and Activism. In his free time, Drew enjoys rock climbing, reading, and listening to podcasts. As part of the i3b team, Drew works with the dialogue program portfolio, including Interact, the IDEAList internship, assessment, peer education, and intergroup dialogue workshops.