In connection with The Division of Student Affairs' value of sense of belonging, Initiatives for Identity, Inclusion & Belonging have a select number of programs geared to the undergraduate first-year experience. These programs are open to both first-year students and first-year transfers. We recognize and value the importance and impact of finding community within their first year is essential for the successful retention and graduation for all Retriever students.
INTERACT: Dialogue Program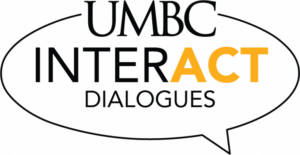 INTERACT is a five-week dialogue program for UMBC students.
Through four short sessions, you will join a small group to learn and practice the necessary SKILLS to become INCLUSIVE LEADERS and ENGAGED COMMUNITY MEMBERS.
By completing INTERACT Dialogues, you will join hundreds of other students who have made the commitment to ensure UMBC is a place where all students feel that they belong.
What is Dialogue?
Dialogue is a focused and intentional conversation where people listen deeply and share authentically.
When and where can I participate?
There will be 5 – 7 small groups of up to 15 participants happening in residence halls and other locations across campus at different times.
What do I get for participating?
New i3b swag such as a free t-shirt AND the chance to build community, develop leadership skills, and cultivate a deep sense of belonging to the UMBC campus and community
---
First-Year Seminar (FYS 102 – 25): Social Justice Dialogues*
This course is designed for students who have a deep interest in issues related to race, social justice, power, privilege, oppression, intercultural dialogue, and the ways such issues influence our leadership abilities and interests. By focusing on how we think and talk about social justice broadly, including race and other intersecting social identities in the United States, students will deepen their understanding and simultaneously learn techniques to engage in constructive conversations and critical dialogues across differences. Students will simultaneously develop skills for facilitating and leading difficult dialogues in ways that help them become more inclusive leaders and active contributors to a diverse and inclusive campus community.
*Please note that this is a 3-credit course, fulfills the cultural graduation requirement and is subject to undergraduate tuition and fees and prerequisites. We encourage you to talk to your academic advisor if you have any questions regarding your graduation requirements.
---
Welcome Week Programs: Open Houses
Our staff runs three open house receptions for each of our Identity, Inclusion & Belonging spaces each Fall Welcome Week (i.e. Mosaic BBQ Kick-Off, Interfaith Religious and Spiritual Brunch, LGBTQ+ Pride Dessert Reception) and one joint one during spring Welcome Week (i.e. The Mosaic, Interfaith, and Pride Centers Open House) to allow community members to meet and greet our new and returning staff, learn about our programs, and how to get connected with our initiatives and opportunities. These casual open houses allow new community members to connect with our department and closest campus partners. Time is allotted for campus partners and organization leaders to introduce themselves while sharing their connection to our department. Further information is provided in the respective fall and spring Welcome Week Booklets provided to all first-year students as well as within the Welcome Week Website and the Welcome Week myUMBC group page.
---
Where My People At? Identity-Based Engagement Virtual Series
The Where My People At? virtual sessions provide first-year students and first-year transfers an opportunity to learn more about life at UMBC as a student of color, religious, spiritual, and/or LGBTQ+ identifying students, as well as students who are interested in getting involved with our culturally-centered, religious and spiritual, or social action student organizations. Sessions include a brief overview of the Initiatives for Identity, Inclusion & Belonging department and staff, current student organization leaders, student organization staff and faculty advisors, and recent alums about multicultural, spiritual, and LGBTQ+ engagement at UMBC. The goal of this series is for first-year students to make new connections, join a new group, meet student leaders, learn about campus resources including our centers and see what this community can offer them! These sessions show new students how to find our i3b spaces once on campus, find the coordinators for Student Organizations, as well as a brief overview of our core programs.