Events Calendar
Initiatives for Identity, Inclusion, and Belonging has over 20 distinct programs and series that fall within the following six categories:
Please note that all of our programs are primarily undergraduate student-centered but are open to both undergraduate and graduate students, as well as staff, faculty, and alumni, unless otherwise specified.
Here are some of our upcoming events:
Location
University Center : Pride Center (201-D)
Date & Time
October 29, 2021, 12:00 pm – 2:00 pm
Description
Join us in the Pride Center for our monthly event- Pizza at Pride! This will be an informal time to connect in the Pride Center, enjoy FREE pizza, and play games in the lounge. Our October...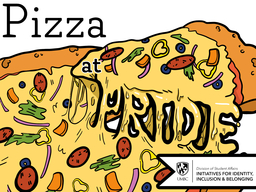 Empowering ways to Bring you into the classroom
Location
Online
Date & Time
November 2, 2021, 5:00 pm – 6:30 pm
Description
Transitioning into college is not always easy… especially if you are first in your family to attend, if you are a part of a marginalized community, or if you regularly find yourself with more...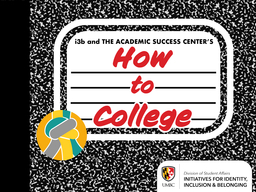 View Event Details for How to College: Bringing YOU into the classroom
Location
On Campus : The Gathering Space
Date & Time
November 8, 2021, 12:00 pm – 1:30 pm
Description
More details TBA. Our i3b staff strives to create the most inclusive environment possible. If you need to request a disability-based accommodation or have any questions, contact us...