UMBC is one of the most diverse campuses in the nation, and we value the richness that such diversity brings to campus life. The Initiatives for Identity, Inclusion & Belonging creates opportunities for students to build their awareness and knowledge of diverse people, cultures, and belief systems. Through facilitated discussions, informal gatherings, educational engagements, presentations, and campus-wide events, individual students, student organizations, and classes learn the skills to create inclusive, just and mutually respectful communities at UMBC and beyond.
Recent Posts:
In Honor of Hispanic Heritage Month
Tuesday, Sept. 28, 11am-1pm. Come up to the Mosaic Center (2nd floor, Commons) for our first International Food Tasting of the Year with catering by Glenmore Caterers!
Posted: September 14, 2010, 11:35 AM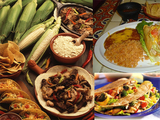 ¡Todos estan invitados! (All are welcome!)
Come out to meet other members of the Hispanic/Latino community here at UMBC and get connected with the Hispanic-Latino Student Union! We want to welcome you and also introduce you to activities...
Posted: September 3, 2010, 11:07 AM