UMBC is one of the most diverse campuses in the nation, and we value the richness that such diversity brings to campus life. The Initiatives for Identity, Inclusion & Belonging creates opportunities for students to build their awareness and knowledge of diverse people, cultures, and belief systems. Through facilitated discussions, informal gatherings, educational engagements, presentations, and campus-wide events, individual students, student organizations, and classes learn the skills to create inclusive, just and mutually respectful communities at UMBC and beyond.
Recent Posts:
Showing items tagged thepridecenter. Show All
Water Leak in The University Center
Correction: The leak was not in the University Center, however the UC is one of the building impacted by the pipe leak on campus.  Hello i3b community members,  Due to a pipe leak in The...
Posted: October 13, 2022, 2:21 PM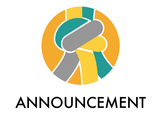 Join us and the Office of Health Promotion tomorrow!
Please click here to see the original post.  Event Details Time: Noon-1:00p.m. Location: University Center 201D (The Pride Center) Date: Tomorrow, October 12, 2022 A community can be...
Posted: October 11, 2022, 4:57 PM