UMBC is one of the most diverse campuses in the nation, and we value the richness that such diversity brings to campus life. The Initiatives for Identity, Inclusion & Belonging creates opportunities for students to build their awareness and knowledge of diverse people, cultures, and belief systems. Through facilitated discussions, informal gatherings, educational engagements, presentations, and campus-wide events, individual students, student organizations, and classes learn the skills to create inclusive, just and mutually respectful communities at UMBC and beyond.
Recent Posts:
Showing items tagged giving. Show All
UMBC Giving Day 2023
Dear friends of i3b (old, new, and soon-to-be!), It's giving day at UMBC! What can we do in 36 hours? Contribute to #umbc #BlackAndGoldRush and see what's possible when we work together. This...
Posted: March 1, 2023, 12:17 PM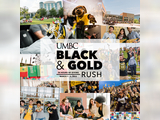 Starts Dec 1st in the UC Ballroom!
Red Cross Blood Drive December 1, 2, and 3rd at UMBC in the UC Ballroom Sign up to give the gift of life this holiday season!
Posted: November 30, 2015, 10:26 AM