UMBC is one of the most diverse campuses in the nation, and we value the richness that such diversity brings to campus life. The Initiatives for Identity, Inclusion & Belonging creates opportunities for students to build their awareness and knowledge of diverse people, cultures, and belief systems. Through facilitated discussions, informal gatherings, educational engagements, presentations, and campus-wide events, individual students, student organizations, and classes learn the skills to create inclusive, just and mutually respectful communities at UMBC and beyond.
Recent Posts:
Showing items tagged art. Show All
Showcasing the Work of Interdisciplinary Black Artists
The Association of Black Artists invites you to join us for our semesterly symposium: "Into The Black Owned: Showcasing The Work Of Interdisciplinary Black Artists" on Monday the 21st at 7p, in...
Posted: November 18, 2022, 12:41 PM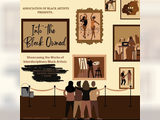 Celebrate Native American Heritage Month! Admission Fee
Posted: November 19, 2014, 4:38 PM
This New CADVC Exhibit debuts on Oct. 24th!
Visibility Machines: Harun Farocki and Trevor Paglen Opening Reception Thursday, October 24, 2013, 5 pm Center for Art, Design and Visual Culture  Fine Arts 105, UMBC The Center for...
Posted: October 16, 2013, 10:45 AM