UMBC is one of the most diverse campuses in the nation, and we value the richness that such diversity brings to campus life. The Initiatives for Identity, Inclusion & Belonging creates opportunities for students to build their awareness and knowledge of diverse people, cultures, and belief systems. Through facilitated discussions, informal gatherings, educational engagements, presentations, and campus-wide events, individual students, student organizations, and classes learn the skills to create inclusive, just and mutually respectful communities at UMBC and beyond.
Recent Posts:
Showing items tagged accommodation. Show All
Disability-inclusive leadership and participation matters
December 3rd is the UN International Day of Persons with Disabilities, honoring the United Nation's commitment for promoting the rights and well-being of persons with disabilities - more than 1...
Posted: December 2, 2022, 4:22 PM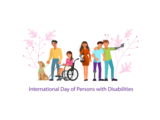 Dear Members of the UMBC Community, UMBC is committed to fostering a campus community that promotes and enhances access and inclusion for individuals with disabilities. As part of our...
Posted: August 31, 2017, 3:01 PM